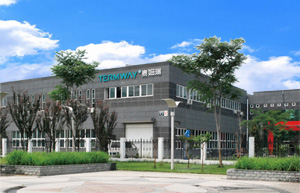 The headquartered of TERMWAY is in Eiterfeld located in Germany, it developed and manufactured for high precision vision pick and place, industrial robots and high speed controlling modules for many years.
China Termway which rely on technology and quality management advantages services to Chinese customers and devotes to improve performance-cost.
China Termway located in building 15, Lian Dong U valley, Jinqiao Technology Park, Tongzhou District, Beijing.
Main products are: automatic vision pick and place system, presicion CNC machine system, automatic controlling software and servo system; there are customer-oriented services.
Products of Termway solute high cost, low efficiency, unstable quality, high invest, high maintain and other problems, while providing appropriate solutions for small and medium enterprises. Most of them have been applied by research institutions, laboratories and large foreign companies. New products are suitable particularly for LED light bar, LED display, automotive electronics, intelligent communications and other batch production.
PROMISE
Business purpose
Building high performance-cost production line, during manufacturing, it can save investment.
Free process guide
There are service centers in Beijing, Shanghai, Shenzhen, Wuhan, Chengdu and Chongqing, professional servers will give customers best solution and suggestion.
After-sale service
Purchasing whole production line, customers can have VIP service which is 2 warranty years for free. Purchasing any machine, it is 1 warranty year for free.。
Our Desire
Liberate workers
Upgrading industry, get out of low efficiency work, a few workers can become processors by learning simply.
Liberate managers
With vision and automatic equipments, they can improve quality and efficiency.
Liberate researchers and teachers
Improving researching and finishing efficiency, it can help sample making upgrade from manual to automatic.